TRAVELERS TOURS PERU is a Tour Operator and Travel Agency. We are located in Trujillo city, in the heart of Trujillo's historical center, just half a block from the main square. Professionals graduated from Tourism School of the National University of Trujillo and official tour guides are part of our team.
Our main objetive is to give quality service, thats why our best reward is the satisfaction of our customers. To achieve this, we constantly train our tour guides and our customer service attenders, so you always get the best and most updated information about a new archaelogical discovery. 
We know and work together with well known hotels, hostels, guesthouses and bed & breakfast, which are exclusively dedicated to tourism service.
We are registered in PROM PERU and MINCETUR, institutions which promote Peru's tourism, also we have the tourist permit of the Municipality of Trujillo.

Our services include:
Be part of a pool (group) tour or enjoy a private tour.
Tours 365 days a year.
Transport units exclusively for tourism service, comfortable and with aircon equipment.
Official tour guides: spanish, english, german, french and italian (available languages).
Lodgings accommodation booking, exclusive for tourism (hotels, hostels, guesthouses and bed & breakfast).
Bus tickets and airplane tickets reservation.
Trips for students and private groups.

Our main destinations are Trujillo, Chiclayo, Cajamarca, Huaraz, Chachapoyas and Tarapoto.

Our mission is to give quality service to our customers. We would like you to know our archaelogical, cultural and natural heritage, which is very unique in the world and amaze visitors when they travel through Peru.
If you have any question, or just want to contact us, please write us, we will be pleased to answer you within the next 24 hours.

Travelers Tours Peru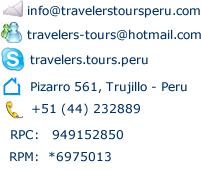 Office opening hours: Monday to Saturday from 8:00 - 21:00. Sundays 8:00 - 15:00.
You can visit also our blog http://travelerstours.blogspot.com/